How rojgarisanjal has helped labour market in this global pandemic .
  Author: Admin
 2021-02-12 (2 years ago)
The global pandemic has caused devastating economic crisis all over the world. It has led widespread loss of income and job. This deadly virus has not left Nepalese labor market unaffected. A lot of people are finding it difficult to get a job and those who were previously employed are also compelled to leave their job because of the risk of being infected by covid.
Not only the job seekers, the employers are also affected in a large way. They are not being able to retain their existing employees and hiring potential employee in the replacement is quite challenging.
Considering these scenario, a group of innovate entrepreneurs have launched rojgarisanjal.com. It is a job portal, a platform that aids at meeting job seekers and employers together.
In this portal the job seekers can register their profile by filling up all the basic details and publish their CV with just one or two click. With the help of this created profile the job seekers get notifications about the available vacancies and apply for their interested field of job. They have a choice whether or not to publish their CV to maintain confidentiality and can still apply for the jobs.
Similarly, the employers/companies can also post their available vacancies simply by registering their company profile. They can post unlimited vacancies from the same profile. The posted vacancies can be renewed after they get expired. The social media pages of rojgarisanjal will promote the posted vacancies so that it gets reached to more of the potential candidates.
All of these services provided by rojgarisanjal is completely free of cost. Unlike other job centers, it does not ask for any commission from job seekers and not from the employers as well.
As it is an online platform, you can do all these activities just by staying at home without a fear of being infected from corona virus. The job seekers don't have to step outside in the search of job and the employers don't have to spend money on posting vacancies and hiring new employees.
Moreover, there are phone call help available from the admin desk of rojgarisanjal where you can make queries about any confusion thereby. This portal has been created to serve the public problems of employment. It has been operating way before the covid breakout and is still dedicated towards its social service objectives. Therefore, finding a suitable job and potential candidates for the job even at this time of crisis has been made easy and safe by rojgarisanjal.
---
Related Blogs
---
How to find jobs in Nepal for ...
Those days, searching for job vacancies on Newspaper are now far gone. With the advancement in techn...
View Details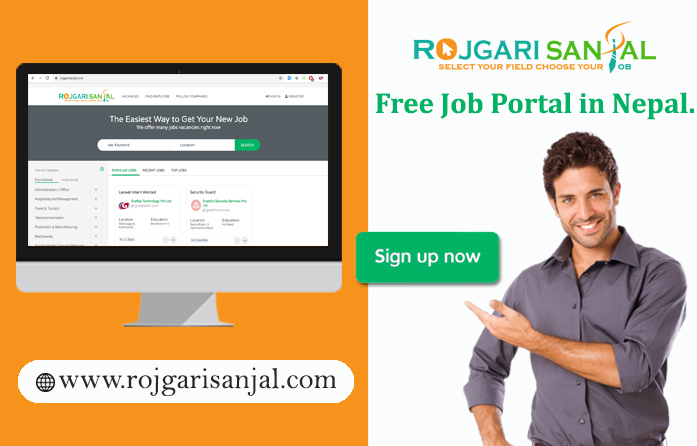 How to find jobs from Rojgari ...
You must have been looking forward to upgrading your skills and experiences by working with the best...
View Details
Is corona virus stopping you f ...
The job sector has severely been affected by the corona virus pandemic. Many people have been jobles...
View Details
What benefits can employees an ...
Rojgari Sanjal is a leading job portal that has successfully established its name as one of the best...
View Details